Every year the Physics Engineering section awards best lectures within their study program.
This year Johannes received the award Guldkärnan for his fantastic pedagogical skills and never-ending optimism during his lectures in Linear algebra and numerical analysis course.
Motivation:

Johannes was a counterweight to theoretic lectures and gave insight and understanding of the subject through applications. With a relaxed attitude and a good sense of humour, he carefully explained the information in the course. He was attentive to questions and tried to make sure everyone understood. Johannes' contribution was invaluable for the course linear algebra and numerical analysis and therefore he is awarded the Guldkärnan 2019.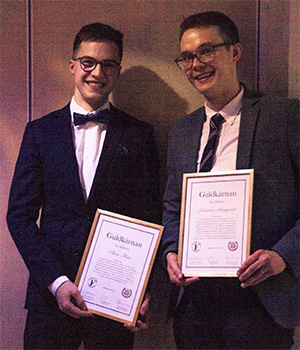 More information: Guldkärnan